Soccer05 Bugeye GTX 3071 Street Track Build Thread
01-02-2015, 09:28 PM
Registered User
Join Date: Apr 2011
Location: Ca
Posts: 335
Car Info: 03 subaru wrx
Final Results:
Travis intentionally made the spool up laggy to cushion the load on the gears with my weak five speed transmission. It also leaves a little on the table for reliability, as I didn't want every last horsepower but a car I could bang on and not owrry about for many miles. With a 6 speed swap, he said there is easily another 20 whp and 30 torque. We are currently running it on low boost (15.5-16 psi) again to cushion the drivetrain. I want to be saving for my 6 speed and not be rushed into it and not be able to purchase my diffs and quality coilover at the same time. Driveability is excellent and the car always has power on tap. Should be a fun car, especially after I put in the 6 speed.
Final results: 330 hp and 314 torque to the wheels on a lowly 15.5-16 psi of boost and intentionally tuned laggy and conservative for reliability of weak points of my build.
---
Last edited by soccer05; 12-22-2015 at

09:46 AM

.
01-02-2015, 09:28 PM
Registered User
Join Date: Apr 2011
Location: Ca
Posts: 335
Car Info: 03 subaru wrx
Slight setback with the subie. I've been saving diligently for my bug next step (6 speed, aggressive diffs, different coilovers, geometry correction, and upgraded brake package) and this happens. Gotta love when an unlicensed, uninsured driver switches lanes without looking and slaps ur car with an SUV. Talking with my body shop for which direction to take the car, looking to have even more rear wheel travel without the slight rubbing I had on large impacts. And of course, the joys of dealing with the insurance companies. In the end no one was injured, and at least he stopped and didn't try to pull a runner on me, so in the end it's just property damage so it's all fixable.
01-02-2015, 09:29 PM
Registered User
Join Date: Apr 2011
Location: Ca
Posts: 335
Car Info: 03 subaru wrx
So after a long hiatus of enjoying the car, and searching and working on a solution I wanted to the body damage to the rear of the car, finally we are having some progress made. As fabrication and bodywork is getting scheduled to tub the rear fenders and address some shortcomings of the wrx, I spoke with Yazel on the phone about addressing another admitted weak point of my build, the coil over suspension. He offered me a killer deal that I could not pass up on his barely used JRZ RS1ís. Huge thanks to Yazel, these things are going to absolutely transform my car, and were definitely a product I had been eyeing for quite some time. So while I wait for the fabricators to finish their winter holiday, these beauties arrived on my doorstop. I can not wait to throw them on and start testing them out. JRZ RS1 dampers, HVT non-raising Camber Plates, Ohlins rear spherical top mounts, Swift Coilover Springs (11K/8K), Swift Helper Springs, Rear extended adjuster *****, and various shims to allow fitment to different camber plates. Huge huge thanks to Yazel, parts came in excellent shape. I will be giving them a wipe down this weekend and getting everything ready to install and experience. Now I just gotta sell my old H&R coilovers.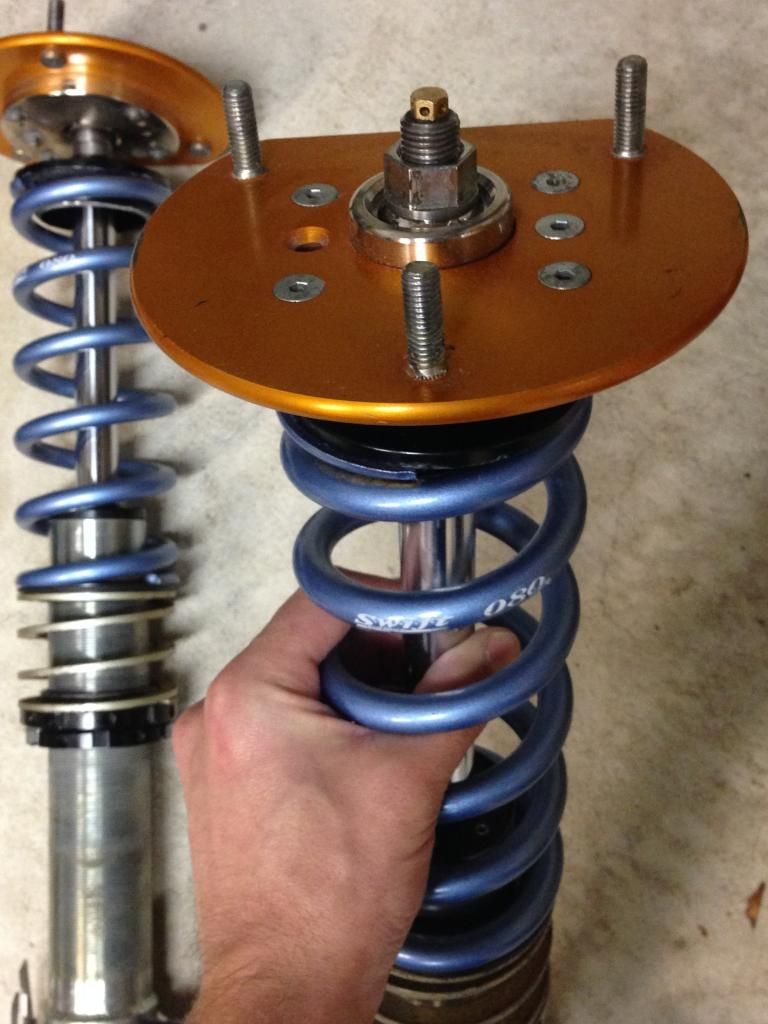 01-15-2015, 12:37 PM
Registered User
Join Date: Apr 2011
Location: Ca
Posts: 335
Car Info: 03 subaru wrx
Just heard back from the guy I'm using for carbon fabrication. I purchased the rear doors, quarter panels, and bumper off of a wrecked 06 STI (Front end wreck rear panels were undamaged) and those parts have been at the shop prior to christmas when they went on holiday for a few weeks. They will be using these panels for making the molds for a custom rear carbon widebody. Track width should be 70 mm wider than stock. Very excited, this combined with tubbing the rear wheel wells should give a dramatic increase in wheel travel and allow for some massive tires at a functional low ride height.
03-13-2015, 10:04 AM
Registered User
Join Date: Apr 2011
Location: Ca
Posts: 335
Car Info: 03 subaru wrx
Driving the car the other night and noticed it was down on power and was making a whistling noise under the hood as the car came into boost and it was not hitting my boost targets, a pretty sure sign of a boost leak, look under the hood and notice my turbo to intercooler hose had come part way off and was allowing boost to leak. Here is a pic at the start of the project, couldn't really get a good pic on the iphone, but while the engine bay is cluttered it still is a very stock appearing engine bay.
After a few nuts and bolts the tmic was removed and we had this.
Cleaned up the hose so that the new clamp will secure the hose and within about a half hour of work had a fully functional boost system again. Was starting to worry my car was feeling slow, but now its back to feeling quick, although I am looking forward to my next round of power upgrades on the car.
It will be nice to go to a rotated v-band setup with a fmic and make the engine bay a lot easier to work on. I will also be measuring out the hoses in the next few weeks and switching over to Murray constant tension hose clamps to hopefully improve the seal and make sure that doesn't happen again until my next round of upgrades under the hood. Also was happy to reroute my wideband gauge wiring so it is a cleaner fit. An hour or so of work had the WRX feeling decently capable again.
Projects for this week include measuring all those pesky hoses, cutting and modifying the intake snorkel so it dumps cold air directly into the Cobb airbox, and getting everything ready for the coil over install. Also got to purchase a few odds and ends for the car and touch basis with the carbon shop to see how the project is moving forward. I will post pictures of the fabrication as the project moves forward.
03-13-2015, 10:05 AM
Registered User
Join Date: Apr 2011
Location: Ca
Posts: 335
Car Info: 03 subaru wrx
So I purchased the rear doors, quarterpanels, and rear bumper from a 2006 Sti that had been in a front end collision. We are using these unmolested panels to fabricate a custom rear widebody kit 60 mm wider in the rear for the WRX with Sti tail lights. We fabricated a little jig to hold the body panels in place. The first step of the rpocess is they use a foam that they can cut and shape to the general shape. Then they use a body filler and sand it perfectly smooth in the final shape of the rear widebody. Any impperfections would get transferred to the mold and then to the final product. They will pull a mold off of the sti donor car, then make the rear widebody out of carbon fiber laid up in the molds. Should be a very impressive and combined with tubbing of the rear fenderwells should make a drastic increase in tire clearance and suspension travel. I relied heavily off of boost junkies build thread as well as previous work on 240sx's to show the shop how I wanted the fenders fabricated. I wanted the fenders to be bolted on and not molded, that way they could be easily replaced when damage occurs.The fenders will be riveted
It's been a long process finding the donor body pieces as well as finding a shop that would meet the expectations I had set for the project. Here are some beginning pictures of the progress.
05-19-2015, 05:24 PM
Registered User
Join Date: Apr 2011
Location: Ca
Posts: 335
Car Info: 03 subaru wrx
Couple more pictures of the progress of the custom carbon fiber rear widebody. They use this foam to shape the body lines, use a body filler style agent and sand perfectly smooth to create a surface that they can pull the molds from. Obviously, there will not be the gaps near the door, we are just roughing out the parts so far. Still very much a work in progress.
05-19-2015, 05:25 PM
Registered User
Join Date: Apr 2011
Location: Ca
Posts: 335
Car Info: 03 subaru wrx
Couple more pics of the progress on the carbon wide body rear end. Progress has been slightly slower than expected, but I think the wait will be well worth it for the quality of fitment and quality of the carbon fiber fenders. Continuing to shape the fenders with the structural foam. Currently the fenders are 80 mm wider than stock, but we are trimming those down to 70 mm wider than stock. Next step they will spray a primer on the foam, then take a sanding block to the fenders. The primer allows them to be able to see the shape of the fenders better, and make it so that when the molds are made they are perfectly shaped and won't have any small waves or ripples on the final production part.
These fenders going to have many compound curves to add rigidity and strength to the parts since they will not only be used on track, but also have to survive the rigors of street driving. Excited as we continue to move forward.
12-22-2015, 09:47 AM
Registered User
Join Date: Apr 2011
Location: Ca
Posts: 335
Car Info: 03 subaru wrx
While I was re installing my exhaust, I could not resist some faux carbon parts. Picked up some Tomioka hood struts and upgraded my Inlet with a Samco hose that connects my Cobb Air Intake to my Samco Inlet. Small things, but I think it cleans up the look of the engine bay not having all that corrugated plastic on the inlet.
12-22-2015, 09:48 AM
Registered User
Join Date: Apr 2011
Location: Ca
Posts: 335
Car Info: 03 subaru wrx
Rear Structural foam sprayed in black primer and began to be sanding to remove any imperfections and come out with the finalized shape of the rear panels. Then the foam will be used to pull a mold, which will be used to lay up pre impregnated carbon fiber cloth to form the new body panels. The final production parts will cover the entire rear door skin of the rear door and attach on the inside lip of the trunk. Bringing the panel to the front of the rear door allowed us to make a more gradual taper to the fender, and make it look more like a very muscular version of the oem part, rather than some pocket flares that were riveted onto the body. It's been a long process, but we're slowly moving forward toward completing the mold and getting this part of the project finished up. I can't wait to get my car looking nice again after the accident, as well as having room for massive wheels and tires with a functional amount of suspension travel and correct wheel geometry.
12-22-2015, 10:04 AM
Registered User
Join Date: Apr 2011
Location: Ca
Posts: 335
Car Info: 03 subaru wrx
More progress on the rear fender. Starting to approach the final look with a nice gentle curve from the front of the rear doors to the rear of the bumper, and an aggressive line where the fender juts out for the extra tire/wheel clearance.
More pictures showing the extra width provided by the fenders.
Some progress has been made on the widebody. Work definitely looks good, just wish it had been completed prior to race season as was the original plan with the shop. Looking forward to getting it fitted and painted properly with the rear fenders