1986 Subaru Leone STi TURBO
11-26-2013, 05:42 PM
no number on it but i have spares that i have to sell nick if you need one
very excited about this radiator ! its a brand spanking new OEM Subaru 1988 Subaru XT6 2.7L H6 Radiator, its 2 core and also has the proper port size for inlet also outlet as a new EJ motors use.
it's also a perfect match to my EA82T turbo radiator, same size same width same cap location same mount points and also XT6 rad hoses to complete the job.
I wish I new all this from the start of the build, but it sure is going to be sweet next summer on the race track to do more laps in the heat, also the spal fans will bolt up in the same position as the gl-10 turbo mt rad. with the bigger radiator and my oil cooler this should complement the motor very well now.
and my new trunk seal which took a long time maybe it was made for me in japan but it came in also oem subaru for that perfect fit, i had a small rip in mine that i didnt like.
01-02-2014, 12:22 PM
I been slacking on my updates, but most my parts are in for the spare EJ22T motor. i decide to get all new case bolts washers caps pretty much everything lol.
also got a new weather stripping for the hood, the original one had a small tear in it.
also picked up the original stickers for my rear doors, i have turbo on the door from factory but my car was a FWD not AWD... so i have to give it the subaru justice of the AWD.
01-03-2014, 08:28 PM
and here we have 2 EJ22T blocks out of 9 cleaned and ready for the shelf for when the time comes, lets hope no more broken motors for 2014 season..
01-03-2014, 09:06 PM
here is the spare EJ22T ill be using and its V9 JDM heads rods pistons all on a wheelie cart lol... this motor will get all the new plugs and JDM oil cooler.
01-08-2014, 05:39 AM
here is my water pump set up, this pump is for a non turbo Subaru "1990 Subaru Legacy 2.2L NA". There is a couple things special to this water pump which works perfect in my build. The black pipe is coolant heater core pipe single, and the hose adapter is H6 ez30
little back ground on the design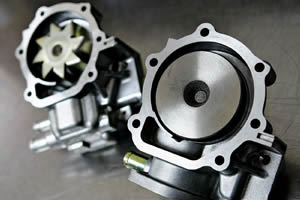 The EJ257 and EJ255 engines are using a low cost stamped impeller water pump that is inferior to this JDM spec closed back cast impeller water pump. The stamped impeller pump is less efficient and more susceptable to cavitation. We suggest installing a closed-impeller pump on any performance or motorsport Subaru engine build
so besides the cast impeller, the inlet port is huge which should help a bit more with coolant flow. on a turbo water pump there is 3 nipple ports... 1 oil cooler... 2 swirl pot... 3 heater core... now because I'm not using a swirl pot and have a rad cap on the rad I can delete that nipple port & the pipe all together.
also my oil cooler has no coolant going into it any more so that port can be deleted also, because of the use of the JDM spec-C S204 adapter.
03-16-2014, 07:01 PM
got lots of parts coming in for my toy very excited to fix the little problems and add some new updated bits to make this car more fun a race track this year.
I found a nice GL-10 Turbo cross member from the local scrap yards had it sand blasted and powder coated black for that long lasting effect. also did the USMB washer weld on trick to re locate the control arms a bit further out so I wont have rubbing binding problems any more with the XT6 control arms.
here you can see the old hole with new hole
my spare Bosch 044 came in (might use this for my other build going on will see) and my arp head studs 625+ for the spare motor, still waiting for the new subaru crankshaft to come in from subaru japan to build the block which wont be much longer.
03-24-2014, 03:32 PM
So I been collecting parts for my car now do to everything being Super RARE or no longer available (NLA) from Subaru any more.
just in case I bend something or I need to replace something, some of the stuff is still getting sand blasted and powder coated.
front control arms bushings XT6 only white line # W51458. you must melt out the XT6 bushing and re use the shell for this to work.
top corner in Pic is bushing and shell
there rear mustache bar on the older Subaru's also have a bushing that can be replaced with a white line part number # W91379. this part fits on all new Subaru's T bar holding the diff up. to make this bushing work you must burn out your old metal shell that the bolt goes into, then drill out the white line bushing to the same size as the bolt shell.
pic bushings is in center XT6 control arms you can see them.
there will be more bushing's coming to firm up the ride on my car, I need to measure them still and cross fit from a newer Subaru once all stuff comes in.
03-25-2014, 07:55 AM
today my Nolathane bushings came in for my Subaru XT6 control arms, for people that never heard of Nolathane, there the owner of Whiteline which is more popular in north america then in Australia but the boys down under know all this all ready lol.
Now I'm waiting for my other bushings from SuperPRO which should cover the rest of my underside bushings and give me that firm more responsive ride around the race track this year.
Nolathane # 46200
direct swap made with the shell
03-26-2014, 08:50 AM
VIP Member
Join Date: Sep 2012
Location: San Jose
Posts: 1,640
Car Info: 2000 Legacy GT, 1999 Forester, 1989 Camry All-Trac
03-26-2014, 09:50 AM
If in doubt, FLAT OUT
Join Date: Oct 2010
Location: Nor Cal SJ
Posts: 6,778
Car Info: 04GGB again! and a blue car
03-27-2014, 05:01 PM
lol
gotcha yes those are weld on
thank you.. I fell in love with the brand way back ever since that first subaru it was full steam head.
I got my 2015 Subaru Impreza STi shift ****, looks good in red match my horn button now.