wagons pwn j00
05-02-2006, 09:21 PM
VIP Member
Join Date: Jul 2004
Location: Yokohama, Japan
Posts: 4,143
Car Info: Ver IV STi Wagon
Had mine non-painted for the longest time, then got a deal on some free already painted WRB ones that a friend was getting. Traded skins and walla....
[Before]
[After]
05-03-2006, 05:58 AM
Warm Fuzzy Admin
Join Date: Mar 2001
Location: Sacramento, CA
Posts: 13,799
Car Info: 97 LOB, 05 FXT, 03 Tundra
Originally Posted by subabu05
We can make that happen for ya
www.wagonmafia.com
05-03-2006, 02:27 PM
Registered User
Join Date: Sep 2005
Location: Harrisonburg, VA
Posts: 21
Originally Posted by subie1kenOO-B
right befor rim of the world car show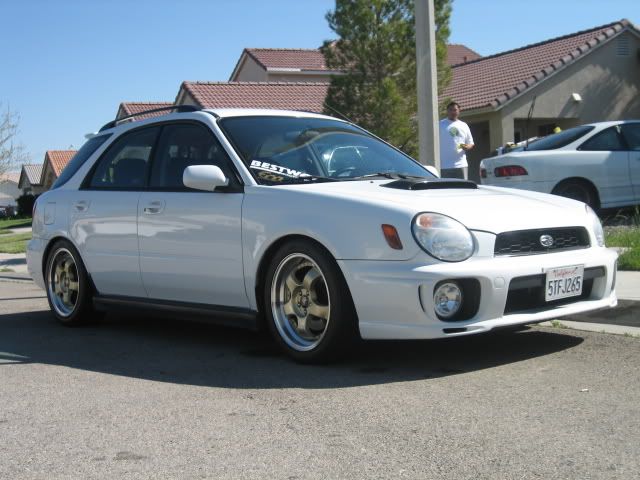 Nice wagn! Love those wheels. What size are they, and what suspension you on?
05-06-2006, 02:53 PM
Registered User
Join Date: Jan 2006
Location: CORONA
Posts: 4
Car Info: 02 WRX WAGON
they are tein stech but only on problem is that the previous owner cut 2 coils its low and rides nice i know your not supposed to have them cut but oh well gonna get full coils later and yes they are 17's actually 17x7.5 with 225/45/17 nitto neo gens
05-09-2006, 10:13 PM
VIP Member
Join Date: Jul 2004
Location: Yokohama, Japan
Posts: 4,143
Car Info: Ver IV STi Wagon
Latest incarnation
(will resize tomorrow)
Other than painting the side skirts and fog covers....and restoring the ate up Rota's this is a finished product (well....maybe)
Sorry to pic ***** again on the same page...but these shots are probably my best to date
---
Last edited by RedStage; 05-09-2006 at

10:22 PM

.
05-10-2006, 07:56 AM
VIP Member
Join Date: Nov 2002
Location: Lastweek Lane - Watertown, NY
Posts: 10,132
Car Info: 02WRXpseudoSTiWannabeWagon
Hopefully we'll be taking a vacation out there in the next year or so. We'll have to meet up and take in a race. Maybe when Jess is home, too.

You know what's lonely? Being a private on a field problem, simulating the suck of combat but being right next one of the world's premier tracks and not being able to go.
05-16-2006, 05:45 PM
Registered User
Join Date: Mar 2006
Location: henderson, nv
Posts: 18
Car Info: 2006 Subaru Impreza 2.5i wagon