Chicken's new beater
08-28-2014, 03:27 PM
Churro Aficionado
Chicken's new beater
---
So after a little over seven years of the wrx, I sold it back in May. I replaced it with one of the cleanest STis (if not THE cleanest, and im not just saying that because its mine).
Bought it off a Mr. Sybir that some may know
05 Aspen White with a few things done.
Pic of both cars before the wrx left for its new home.
Ill keep this listed updated as things come/go.
As of 4/19/2019
Engine
99.75mm JE forged pistons
ALC Race main/rod bearings
Nitrated crank shaft
ARP head studs
TGV deletes with top feed conversion
Injector Dynamics 1300cc
AEM E85 fuel pump 320lph
Blouch Dominator 1.5XT-R 10cm
Cobb Access Port V3
Invidia catless DP
Cobb catback
Injen wrinkle red CAI (CARB legal)
Perrin lightweight crank pulley
CSF Aluminum Radiator
Limited edition Huck Gee BAM 710 cap
Carbing front strut brace with MCB
Kartboy battery tiedown
Beatrush radiator shroud
Tein hood dampers
Snail Performance Tune
332/337 whp/tq @ 19 psi on CA 91
367/409 whp/tq @ 22 psi on E85
Previously
Heat treated turbo chimney
Sē Ecutek tune – 265whp/280wtq
Wheels/Brakes
Brembo slotted front rotors
Hawk Ceramics front/rear pads
Summer
Enkei RC-T4 18x8.5 +48 (Powder-coated
red
)
FIRESTONE FIREHAWK INDY 500 XL
255/35/18
Winter
Racing Sparco NT-R 17x8 +48 (Powder-coated
candy purple
)
Hankook Ventus S1 Noble2
235/45/17
Suspension
Tein Mono Flex inverted coils w/ EDFC.
Whiteline ALK
Whiteline subframe lock bolts
Whiteline 24mm front sway bar
Whiteline 22mm rear sway bar
Whiteline KLC139 adjustable front/rear endlinks
Paranoid Fabrications Cowl brace
Interior Modifications
Zerosports push start ignition
JDM V7 Seats (adjustability both sides)
JDM rear with pass-through
JDM red hazard
s204 full dash trim
WC Lathe Works white poly shift ****
Extended armrest
Autospeed dead pedal
Exterior Modifications
JDM sidemarkers
WRX paint matched sideskirts
Debadged wingless trunk
RallyArmor mudflaps
RallyArmor skidplate
Rally Innovations skidguard
Prodrive diff guard
Autospeed carbon fiber rear license plate trim
06 rear diffuser
Cusco lower subframe brace
Fog-light cover license plate mount
JDM power folding mirrors
San Remo Red mirror caps (
Summer
)
Hella Supertones (
Summer - red
)
Custom Candy Purple mirror caps (
Winter
)
Hella Supertones (
Winter - purple
)
Front end/mirrors clearbra
Sound/Electronics
Pioneer double-din AVH-P8400BH
Phoenix Gold 10" in Duffman trunk box
Rockford Fosgate Punch 300.1 amp
Hardwired/mounted Beltronics RX65 Pro
---
Last edited by stupidchicken03; 04-24-2019 at

07:01 AM

.
08-30-2014, 05:08 PM
Churro Aficionado
So Max and I went out today and he snapped a few shots. They came out AWESOME. These first three are prolly my favorite.
The rest of them still came out great! Thanks again Max!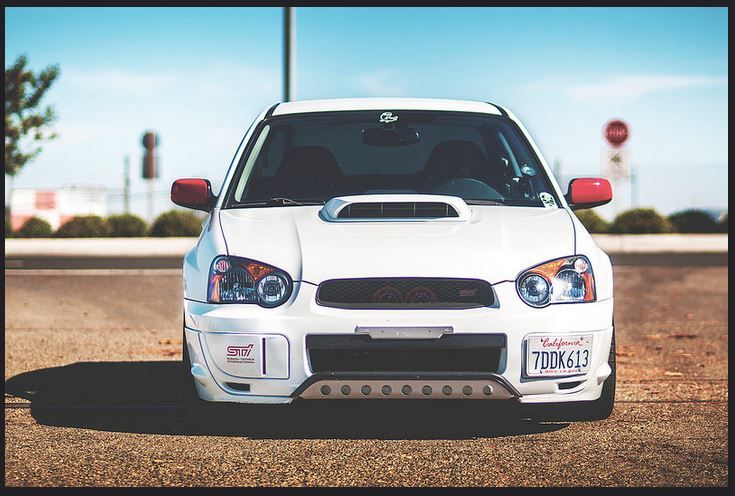 08-30-2014, 05:57 PM
Registered User
Anytime bro! Photobucket compresses them a bit thats why flickr > photo bucket lol
Link to full res here
https://www.flickr.com/photos/wicked...7646990185796/
This STi is a blast to shoot
We gotta ***** it up again sometime man.
01-08-2015, 02:56 PM
Join Date: Jun 2008
Location: In Mother Russia...
Posts: 3,994
Car Info: ...zeh car drives you!
1) Where the **** did you manage to find THAT much wood?! Overcompensating for something?!
2) If this is your idea of a "beater" ride...I hate to see the "nice" one
Jokes aside...iz nice I jelly