DBA Rotors available at Methodbuilt!
10-20-2008, 11:39 AM
banned
Join Date: Oct 2008
Location: San Jose CA
Posts: 220
Car Info: 2007 Subaru WRX STi
SSR Wheels recession pricing
---
DBA 4650 for 02-07 WRX
DBA's mid-series enhanced performance rotor features Thermal Stability Profiling for improved heat handling and Thermo-Graphic paint markings for effective heat monitoring.
This rotor incorporates the innovative Kangaroo Paw ventilation design, which runs cooler, stronger and outperforms traditional straight vane disc rotors by up to 20%.
Suitable for specific production car motorsport use.
$525 + tax
DBA 42654 for 05+ Sti ( same price for 04, different part # )
$600 + tax
DBA 42656 for 08+ STi
$605 + tax
All prices include installation
------------------------------------------------------------------------------------------------------
To improve the look and handling of the Subaru WRX STI, Agency Power has developed these performance racing springs. These lowering springs are designed to work with the factory struts on the 2008 and up GH and GE chassis of the Subaru WRX and STI. Agency Power has worked to get a spring rate that gives the car an amazing ride quality on the street, yet able to push limits on the track. The springs lower the car approximately 1.25 inches in the front and 0.75 inches in the rear for a good clean stance. The springs are finished in a white powder coat which will match our Agency Power sway bar kits. The springs are sold as a complete set for the front and rear of your vehicle.
Agency Power Performance Racing Springs WRX/STi 08 and up - $210 +tax/shipping
--------------------------------------------------------------------------
We are offering a KW variant 3 Group Buy for all WRX's and STi's going on right now. At $1775, we are pricing them to move fast!!!
"Variant 3 race technology for the road with adjustable compression and rebound damping
The new Variant 3 is state-of-the-art technology for the skilled and experienced driver. The separate and independent compression and rebound damping options allow a truly individual driving set-up. These unique systems with the 3 individually adjustable components, allows for adjustment of the compression of the damper in the low-speed range, while the highspeed set-up, so decisive for driving comfort, has been preset by our engineers"
-------------------------------------------------------------------------
Blowout price on DC Sports Titanium Rear Strut Tower Bar!
$260!!!
-------------------------------------------------------------
With year of experience in motor sports, Laile, which manufactures, brands, and operates Beatrush has collected sufficient data information on the tracks of Japan to produce high quality and functional products. Located in Yokohama, Japan, Laile manufactures most of their products with their high precision machinery. All the unique products developed by Laile offers superior safety and plenty of pleasure both in track and the street, as well to look at.
Adjustable Control Rods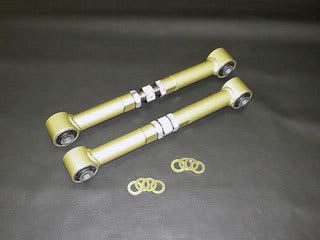 Performance Bar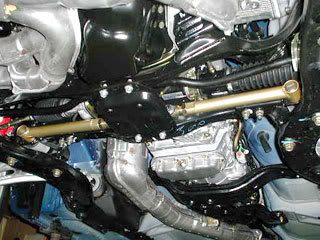 Transmember Bushing
Strut Tower Brace Bar
5Zigen Carbon/FRP Brake Ducts for GDB ( Impreza WRX/STi )
Bring direct airflow to the brake rotors.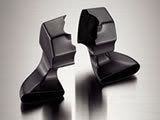 Available are Tanabe's Front Upper Strut Brace and the Front Underbrace. Get on our list and be one of the first to have their's delivered.
Underbrace:
Often overlooked, especially on vehicles that are reaching higher levels of modification, is the importance of reinforcing the chassis. All vehicles experience flexing of the unibody under various handling loads. Twisting of the chassis is also very common on higher horsepower vehicles. The SUSTEC UNDERBRACE prevents this unwanted behaviour by connecting specific points of the undercarriage to reinforce the chassis. Unique internal double-i-beam construction is highly rigid, and lightweight, so the chassis may be significantly reinforced without adding surplus weight.
Noticeable gains in balance and stability are gained after it's simple bolt on installation.
Will update with pic in future
Strut Bar:
The strut tower bar is arguable one of the least expensive upgrades that can provide a very high degree of benefit that is felt immediately after installing. Often one of the first modifications performed on a vehicle, the strut tower brace improves handling and stability of a vehicle. The Sustec Tower Bar has been very popular due to its low price and high functionality. By connecting the strut towers, and creating a balance, the shocks are prevented from independently moving and causing small changes in suspension geometry.
picture is not on an 08, though it is what tanabe has on their website. will update accordingly later!
------------------------------------------------------------------------------------------------------
We are having great deals on SSR wheels with custom fitments available!!
SSR Professor VF1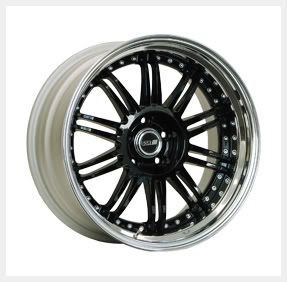 SSR Professor VF1 R
SSR Professor MS1
SSR Professor MS1 R
SSR Professor SP1
SSR Professor SP1 R
SSR Type F
SSR Type C
Also, we are having a special sale on all JIC magic wheels in stock! All sizes available.
J-Force 05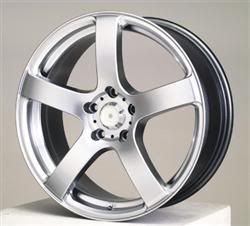 J-Force 07
Stella 05
Stella 07
PM for details and pricing
BIG EDIT!!!! 18x9 +45 J-Force 05
in Anthracite Black and Professor MS1 18x9 +37 in Gold, SSR Type F in 17x7.5 +48 in Gold, flat black, and starlight silver, 17x8.5 +58 Flat face 5/114.3 in gold and starlight silver, 18x8 +48 5/100 in gold, 18x8.5 +30, +48 and +52 5/114.3 in gold, flat black, and starlight silver, 18x9 +32 and +50, deep face in flat black and starlight silver, 18x9.5 +22, 5/114.3 deep face in flat black and starlight silver, 18x10.5 +25 5/114.3 in gold, flat black and starlight silver, 19x8.5 +42 5/114.3, in gold, flat black, and starlight silver, 19x9.5 +38 5/114.3 in gold, flat flack, and starlight silver, and Type C in 18x9.5, +29 5/114.3 in gunmetallic, and 19x9.5 +30 5x114.3 in bronze and gunmettalic are in stock, ready to ship RIGHT NOW!!!!!! act fast before they are gone!!!
---
Last edited by methodbuilt; 10-31-2008 at

11:10 AM

.
Thread
Thread Starter
Forum
Replies
Last Post
Tuning, Services, and Installs
Suspension / Brakes / Handling / Wheels / Tires
Vendor Group Buys/Specials
Suspension, Handling, and Brakes
Suspension, Handling, and Brakes