What's the scariest thing that's ever happened to you?
01-27-2011, 12:09 PM
Friendly Neighborhood Ogre
Join Date: Mar 2000
Location: www.gunatics.com
Posts: 19,929
Car Info: GUNATICS.COM
What's the scariest thing that's ever happened to you?
---
Joking aside, what is the most terrifying thing you've ever experienced. I have 3.
1. 1988 my parents took us to the Ramstein airshow, also known as the Ramstein air disaster that killed more than a dozen people when an aircraft crashed into the crowd of people... We were about 50 yards from where the incident happened. It was the scariest f'ing thing I've ever encountered. First time I've ever seen a dead body... I had nightmares for months because of it... And now I have a really severe fear of flying.
2. I went for a bike ride one night on my high end specialized bike which was worth around $3,500 + he HID system and all the extras I had. A group of guys try to jack me for my bike (Vatos), I panicked and lucky for me I had a giant think of 15% concentrated pepper spray that I took out of my fanny pack (yeah, FANNY PACK!!!). I sprayed them all and booked the HELL out of there. There was about 7 of them and 1 of me... They pushed me off my bike and tried to steal it but they got sprayed instead.
I know it had a good outcome but it was scary as hell especially since it was like 1am. I had just bought the bike a few days earlier and there's no way I was gonna let someone take it. I sprayed the HELL out of them. (there's more to it than that but for legal reasons I dont want to share that part, lol. If you're a friend of mine and want to know, please PM me and I'll tell you.
3. On a flight home from Germany when we were about to land @ SFO we hit a bunch of turbulence and the pilot told us to brace for impact. My life flashed before my eyes and I thought for sure I was dead... Luckily we landed, and once we did everyone shook the hand of the pilot. That was scary as HELL.
4. The last time is when I got stuck in a very tight space in some cave... That part of the cave was called "Godzilla's Nostril". It was vertical and very tight. I was stuck for a while and started panicking. Im so closterphobic now thanks to that.... Ug.
What about you? Whats the scariest moment(s) in your life?
I know I have more but thats the only one I can think about.
PS: I forgot the time my friend and I went off a cliff on Hamilton in his caged 510. That was CRAZY scary.
01-27-2011, 12:38 PM
Holy crap dude, I know all about the Ramstein air show.
1) In high school, Was pumping gas as two guys with shotguns pulled up ran in and robber the place.
2) Loss traction during snow storm as I was on the freeway, spun 3 times and missed oncoming traffic by about 3 feet.
3) In high school, came home to a house that was ransacked. neighbor said he saw three guys, though they were friends of my sisters. They took all my dads guns and kicked over our TV.
4) Once again in high school, was at my GF place when swat pulled up and raided her next door neighbors house. We thought they were coming after us when they first pulled up cause they blocked both houses.
For those wondering, in high school i lived about 3 blocks from where the Good Guys hostage shooting (
http://www.youtube.com/watch?v=WaksXPQgR80
) took place. In south Sacramento.
---
Last edited by newyorkreload; 01-27-2011 at

12:45 PM

.
01-27-2011, 12:54 PM
Registered User
Join Date: Nov 2006
Location: vallejo ca
Posts: 694
Car Info: 04 WRX & 01 NEON "SRT0"
damn been through some ****.

i flipped my first car 86 cavalier 2 dr "sport back" hella clean haha,end over end into on coming traffic, on columbus pkwy in vallejo, over the rock center divide in front of the golf corse.(for those of you who know the area)
---
Last edited by pr0jectmayhem; 01-27-2011 at

12:56 PM

.
01-27-2011, 01:25 PM
Playing peewee football I tackled a guy far smaller than me. Had a helmet to helmet collision and for what felt like an eternity I couldn't feel my legs.

Was hit by a car surprisingly it wasn't that scary though now that I think about.

Me and a friend got chased by 4 guys with bats.

Probably the scariest was getting t-boned by a drunk driver in my subaru when it was 6 months old. If I was in my old car I would have been dead.
01-27-2011, 01:38 PM
Registered User
Join Date: May 2006
Location: san jose
Posts: 1,044
Car Info: 03 wrx sedan
One of the scariest moments in my life was when my gf had to go in for surgery.
I was in the waiting room when the doctor came in and asked to see me outside.
The look on his face was not good.
My heart sank and I thought he was gonna tell me she died!

Thank fully that wasn't the case, but he did tell me they found a small cancerous growth that there were able to remove.
01-27-2011, 01:56 PM
Registered User
Join Date: Sep 2008
Location: South Bay Area
Posts: 1,112
Car Info: Type 53
One night I came back from La Vics with a buddy, I shat literally all night and I woke up inside my room, and in the bathroom without knowing how I got there. The next day I checked and it turned out I lost 20lbs of waterweight, it must've been a stomach flu of some sort, needless to say, I'm not going to La Vics any time soon.
01-27-2011, 02:14 PM
03.23.67 - 06.14.13
Join Date: Nov 2002
Location: N37 39* W122 3*
Posts: 8,496
closest i ever got to having a really hairy situation in my truck going 4 wheeling was going up this face on a hill.
the face is all rock.
friend made it up just fine and i followed him. i wasnt as setup has him and as now today.
i started to slip sideways. and when going up a hill, going sideways is the worse thing you can do because that would cause the vehicle to roll down.
fortunately, i got the rear end to slip sideways in the opposite direction to help me line up correctly uphill.
but this also caused my right rear wheel to fall into a small dip. so now, i had others in the club run to my front bumper and hold it down. otherwise, i could tilt backwards and the vehicle would just roll backwards in a worse case.
fortunately, i already moved my winch from the rear bumper to the front bumper. i have a setup where the winch can be removed and slide into a tow hitch. i had someone grab his winch controller, plug it into my winch, run off come cable and attach it to a tree (or rock... i forget).
i slowly winched myself up the hill.
only proof of this is a 2 shot GIF another club member made. zoom in and you can see my truck go from a bad angle to a straight one: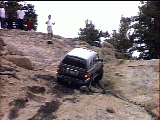 01-27-2011, 03:46 PM
Registered User
Hit by a car in bumper to bumper traffic on 99sb.. As I did a little mid air flip I could see a rather large and rather old pickup truck in the lane I was tumbling into.. I think that was the fastest I have ever moved in my life to get back up and gtfo of that lane.. Luckily the truck was paying attention and was able to stop before running my *** over.. Ended up with only a couple busted ribs..

Another bike incident - can't recall the highway - just that I hit a deep rut covered by a slippy tar snake on a hot day while fully leaned over/ hanging off on a left sweeper.. Knee wasn't quite down - but it was a gentle curve and speeds were somewhere triple digit - and there was a nice deeeeep cliff a few feet right of the right shoulder w/o guard rail.. Bike started bucking back and fourth pretty hard.. Threw my outside leg off the rearset.. Then it got into a nice lock to lock tank slapper despite my damper (which was obviously set toooo soft) I was pretty sure I was done - the gap in the pavement followed the curve for a full few hundred feet and was the edge of a crappy patch.. So I was slotted into it pretty good.. Kept a level head and steady throttle (well as steady as i could given the thrashing) - but i was pretty sure I was done - then suddenly the pavement cleared up and I was good.


..

Actually.. come to think.. I probably have a few dozen stories like that.. Which is why I promised wifey I'd keep most of the speed at the track now that I'm a daddy....
01-27-2011, 03:57 PM
Registered User
Join Date: Sep 2006
Location: Sacramento
Posts: 1,235
Car Info: 70 BMW 1600
Originally Posted by
[email protected]
1. Got married.
2. had first child.
3. had 2nd child.
4. had third (and final) child.
Damn that's scary, I got the chills reading it! LMFAO
01-27-2011, 04:17 PM
Friendly Neighborhood Ogre
Join Date: Mar 2000
Location: www.gunatics.com
Posts: 19,929
Car Info: GUNATICS.COM
01-27-2011, 04:20 PM
Registered User
Join Date: Apr 2003
Location: No Way
Posts: 6,826
Car Info: Nadda
Did some stupid stuff that I didn't think was too scary when I did it, but reflecting back on it I was a douche.

Spun out on the freeway in my first car, mr2 1st gen. Even that was scarier than getting mugged in SF when I was a teen.