Forever a Bugeye fan.
09-20-2012, 03:36 AM
Forever a Bugeye fan.
---
Hey guys, IM BACK.
12/14/2019, meet my CWP 2019 WRX with Performance Package, I couldn't be away from Subaru too long. I guess 5 years was enough.
@StrykerHype.WRX for updates.... Kept the same thread open just to have all my post in a single place... Photos posted in thread.
In mySPOILER]history of licensure I've gone through a
few
cars but something about the Subaru Impreza WRX just stuck... after starting with an MR2 Turbo, to going through an Audi 1.8t, 350z, and finally stepping into my childhood dream car of a Bugeye'd WRX (of course I've considered '04-'07)
I feel like the WRX has the compromise of the MR2 (being japanese, turbo'd) and the Audi (AWD, Turbo'd)... Some would say going from the 350z to the bugeye was a bad idea or a mistake but my gut feeling and desire to own an 02 tells them to **** off.; I am not going to lie.. I do miss the Z but not enough to compromise my true likings--not to mention the fact of UTILITY and being an avid snowboarder... blah blah blah
this is is the car, the day before my ownership ~115k miles
Immediately after transfer of title I painted the wheels black, threw on a catback, unsmoked the tailights
Purchased a Prodrive (rep front lip)
You guys may notice ry's wagon at our 2slow meets back then...
photoshopped height for extra ridiculousness.
eventually getting '07 tailights and Prodrive painted (rep) front lip, painted sideskirts
..yes I've had a tacky sticker phase even.
here she is being sent off the shop to have a brand new motor/ heart transplant
needless to say... i've gone through many mini-phases.
and this is now how she currently sits...
Odometer just hit 131,000
Miles on new motor: ~7,000
Lowered on Tanabe GF210 Springs
Apex'i N1 Rep Catback
Nvidia Catless Downpipe
Cobb OTS Stage 2
K&N Drop-In Air Filter
Blox 490g Shift ****
Kartboy Short Throw Shifter
Window Tint
Aftermarket Ground Kit
Aftermarket Front Plate Angle
Aftermarket JVC Radio Deck with Bluetooth and Hands-Free Calling
Subygal Dash-Mount Gauge Pod
VDO Boost Gauge
STi Up Pipe
STi Front Grill
STi Trunk / Wing
STi Indicator Light Plate
'04 STi Hoodscoop on Aspen White CF Hood
Black Headlight Housing
Prodrive Front Lip (rep)
'06 WRX Tail Lights
granted I take my wing on and off... and most of these pictures are Pre-STi front grill, just wanted to finally introduce myself.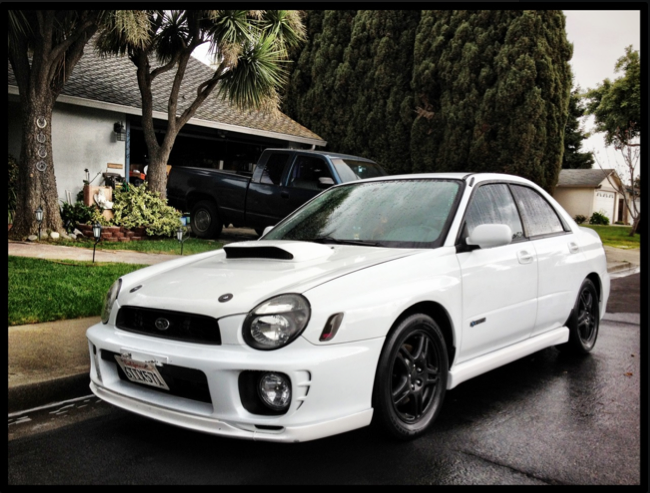 near future plans consist of a wholesome suspension set-up, 18x8.5 +40ish offset wheels, VF34, Walbro 255, STi Top Mount, updated interior, and subtle but tasty things that interest me AKA legitely mounting my front lip tommorow and body painting my sides, lip, and (future) rear spats..... to complete my plans of a reliable, decently powerful, nice and clean daily driver. --after reviewing the pictures, I might just have to go plateless again.
some "extra-hip" instagram photos... taken last week, i now have no more interior distractions/gimmicks/dangling things, going for the extra clean look now, but the wing is now back on-- currently moved to fremont so the Bay Area I-clubbers will see me more often out there on wednesdays.
---
Last edited by StRyKeR; 01-10-2019 at

07:38 PM

.
11-20-2012, 04:46 PM
Thanks guys!
Originally Posted by scbyrex
Id ditch the horrible 04 sti scoop for a jdm. It looks like a warped rep anyways.
Yeah, I completely agree, I'll take any hood for that matter... Previous owner put this CF hood painted AW. It's up for trade for oem hood with either us or jdm scoop.
---
Last edited by StRyKeR; 11-20-2012 at

04:48 PM

.