Old School to New School
03-23-2009, 09:08 PM
Registered User
Join Date: Nov 2002
Location: Bahay area, CA
Posts: 1,912
Car Info: RIP: 2000 2.5RS Sedan, BRP Now: 08 WRB WRX Hatch
Old School to New School
---
Most of you probably knew me from my old 2000 Impreza 2.5RS that I got way back from Feb of 2000. I've made a lot of history with that car since then. Until Aug of 2008 when I got into my accident. Then finally moved on to the 3rd generation and stepped up to the wrx. Anyways heres the before and after photos.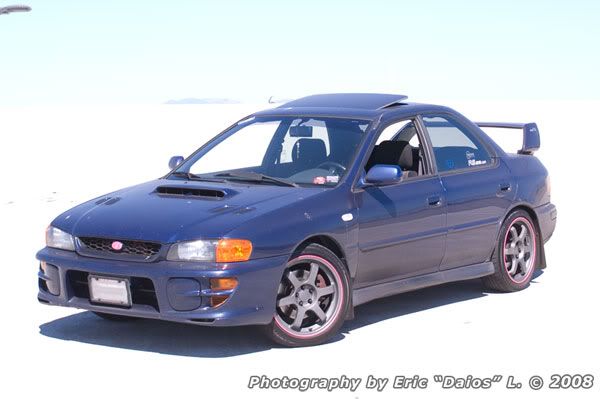 11-16-2009, 12:44 PM
Registered User
Join Date: Nov 2002
Location: Bahay area, CA
Posts: 1,912
Car Info: RIP: 2000 2.5RS Sedan, BRP Now: 08 WRB WRX Hatch
So... I tried to do a front end conversion to a GC on my GH the other day.... and it didn't fit too well...
..... and the 08 grill (and emblem) is too big compared to my version 5/6 grill
01-28-2010, 11:35 AM
Registered User
Join Date: Nov 2002
Location: Bahay area, CA
Posts: 1,912
Car Info: RIP: 2000 2.5RS Sedan, BRP Now: 08 WRB WRX Hatch
Thread
Thread Starter
Forum
Replies
Last Post
New Aftermarket Car Parts For Sale