My 2013 Scion FRS build aka GT86 or cousin of the ZC6 BRZ
07-29-2013, 01:13 PM
VIP Member
My 2013 Scion FRS build aka GT86 or cousin of the ZC6 BRZ
---
So this thread should be on ft86.com but I'd rather post it here since this is where I started. I've posted some pics and vids in other threads but after a few PMs from people I decided just to make my own thread with all the work/progress of what goes into this on going program.
Anyway my work acquired this car for a road racing program. Not drifting, not time attack, pure wheel to wheel racing.
Took delivery of the car in September of 2012.
bone stock Scion FRS
Our first race is roughly 3 months away. So our goal, get the safety system in place and whatever suspension/handling modification done. No way can we increase the power output of this car since its not tested in slightest.
We get straight to work ripping apart this brand new car. Everything is clean, no rust, no bolts seized whatsoever.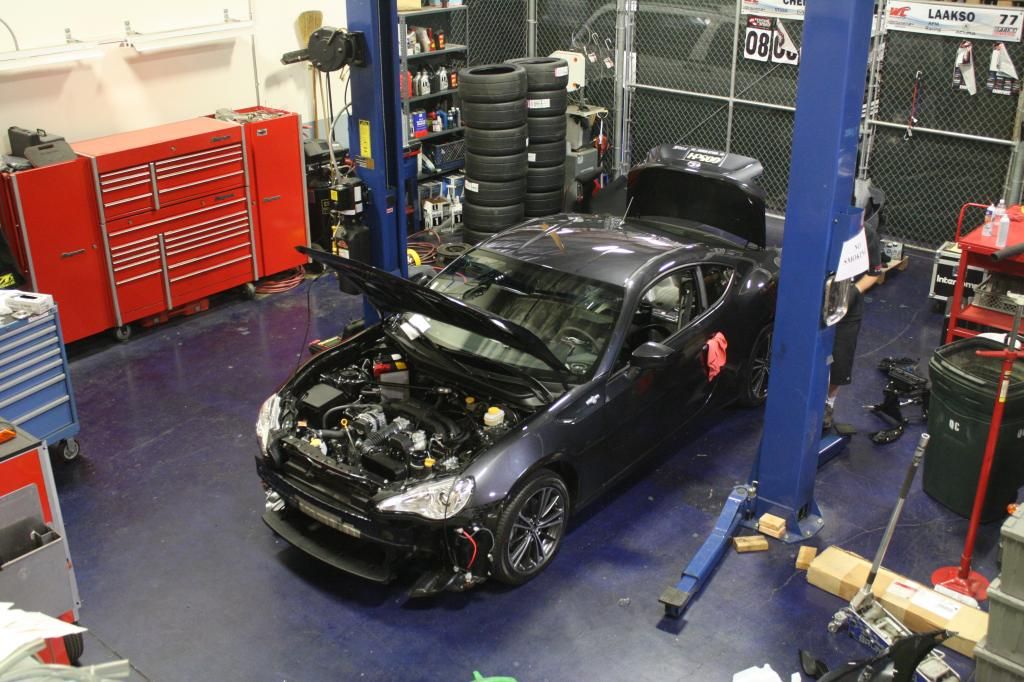 ---
Last edited by LifePlaza; 07-30-2013 at

01:38 PM

.
07-29-2013, 01:19 PM
VIP Member
We pulled out everything that didn't need to be in there. So off to the roll cage build
We are running airjacks in this chassis set up as well so might as well install them while we have it ripped apart.
---
Last edited by LifePlaza; 07-30-2013 at

01:43 PM

.
07-29-2013, 01:24 PM
VIP Member
now onto the cabin
Our driver is super paranoid of seat brackets failing since it happened to him. All the seat bracket kits that were available at the time were all slider type and not low enough. So we improvised and made our own off old shop spare parts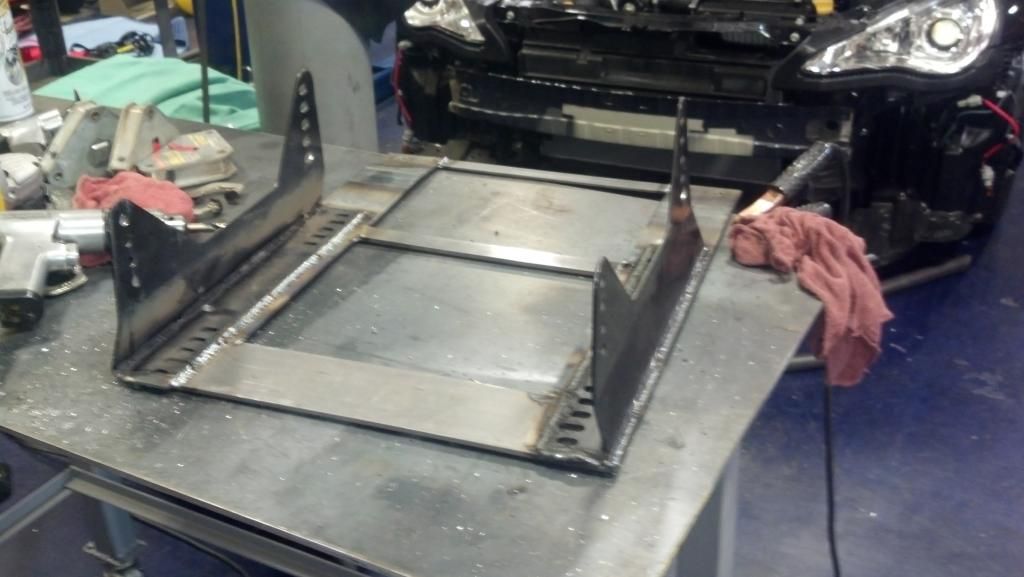 so now we can mount the seat and the window net
---
Last edited by LifePlaza; 07-29-2013 at

02:51 PM

.
07-29-2013, 01:29 PM
VIP Member
after some re-routing wires, fire system and steering column modification we can finally start putting the dash back together
majority of our parts came in at the same time so lucky us we were able to bang out all the upgrades in a couple of days.
---
Last edited by LifePlaza; 07-29-2013 at

04:22 PM

.
07-29-2013, 01:48 PM
VIP Member
We got a delayed on the brake kit set up but didn't want to miss our window at the test day in November (1 month away from our frist race). So we went for a shakedown with the stock brakes just to make sure everything was running as it should.
We got a local AutoX to test the car for us and the give us feedback on the set up. Test day was a success and we ran pretty much problem free. We did learn alot about the traction control, Electronic braking, and steering correction. So we had to figure out a way to defeat these crutches.
Anyway come December we head up to Thunderhill. Since this was a brand new platform. The organisers had us classified as E1. We were hoping for a lower class since we have no real engine modifications but we will make due with the hand we are dealt. We are going up against HPD (honda racing development) which was fine with us. Our goal is to complete the 25 hours of Thunderhill.
So the team we are paying attention to had 2 ILXs
All through out practice they are 7 seconds faster than us.
So we know that driving the wheels off the FRS will not help us get those 5 seconds each lap. We figure that a more conservative approach is needed for us to finish well.
07-29-2013, 01:57 PM
VIP Member
This was our very first time running the 25 hours of thunderhill and I will say this is a racing lifetime wrapped up in one weekend.
As I zoomed back out of the view its pretty clear Im thinking windows desktop
1 day to get the car set up for a track many of our drivers have never driven. Elevation changes like that drop on the hill make your ***** becoming lady parts according to one of my drivers who spun at the exit of that hill.
Our 4 drivers
I lost track of how many cars are running
edit 69 cars total
07-29-2013, 02:06 PM
VIP Member
We did finish the race, 8th in our class and ahead of one of the HPD cars. Not really a result to brag about but since this was our first 25 hours and we did finish ahead of one factory honda team.
But now that the 25 hours of thunderhill were out of the way we can start doing upgrades to the engine and try to make some serious power gains.
Next stop MotoIQ Round 1 at Auto Club Speedway in Funtucky, CA.
It had been a while since we had run with these guys. We used to run an Acura RSX and was fairly competitive. Never a win but a few podiums. So we get to test the waters with the FRS against the likes of Hondas, Scion Turbocharged TCs and many other cars.
Right off the bat we were off their pace by 7 seconds. Even if we resurected the spirit of Senna to drive, there is no way even he can get those 7 seconds. Since this is a sprint race format, we can't get ahead with more mileage out of fuel or tires. These are 30 minute sprint races so we pretty much have to give it 10/10s all the time.
---
Last edited by LifePlaza; 07-29-2013 at

02:19 PM

.
07-29-2013, 02:13 PM
VIP Member
These are double header races so one on saturday, one on sunday
On the saturday race we managed to finish 4th.
This was mainly because cars in our class either broke or DNF. Not exactly a win by any leap
On sunday we got punted by another car in a different class which pretty much put us last. The team was still positive however the driver took it pretty hard.
The next round of the MPTCC race is a few months away but we already knew in advance we would be driverless for that race. We took that time to look into options to gain those 7 seconds we need to be competitive. So the options we came up with:
1. Engine swap to EJ power
2. TRD supercharger is $62000 lolerskates
3. Turbo kit???
07-29-2013, 02:34 PM
VIP Member
So lets get some baselines going
170hp of blistering power
My budget is really tight. I can't really afford to do an engine swap right now. Can't afford the TRD supercharger that comes with nothing. So turbo upgrade would be the best choice. These FA20 or whatever Subaru direct injection motors are actually pretty tough. Some cooling issues but for the most part are pretty strong engines from what I've been told. I reached out to an old Subaru performance parts maker from way back in my 2.5RS days. This company is AVO Turboworld.
Excellent guys there and are filled with tons of knowledge and experience with their BRZ in Japan. I've been following their adventures and road/track tests with their turbo kit. While going for a crazy huge monster turbo set up with crazy stainless piping sounds awesome and all, this doesnt fit my real world needs. I wanted something that looks tough, won't bend, won't come apart. So I ordered the turbo kit.
its not the hugest turbo but it will get the job done. Its internal gated and set to 5psi. The racing series I am competing in is classified by power to weight ratio. So the FRS is 2600lbs divide that by 12 and this should be my HP 216.6.
Since we know the baseline is 170hp of absolute excitement, gaining the extra 56hp should not be the problem.
I really liked this oil scavenger return kit. This pumps the wasted oil out of the turbo back into the head.
We got some high numbers off the dyno, actually way too high, we would either have to pull spark to make less power or add another 100lbs back into the car to make it legal.
---
Last edited by LifePlaza; 07-29-2013 at

02:57 PM

.
07-29-2013, 03:08 PM
VIP Member
Along with the turbo upgrade, we also upgraded the rear end with a full diff and shorter gearing
We did some testing a week ago at Willow Springs, and it was hot. I'm talking make a Filipino darker hot. According to the AIM telemetry it was 105F outside temp and track temps were 135F. Water temps got up there to around 210F but everything was good. We did about 7 20 minute sessions back to back with minor suspension tweeks and fixing some bugs.
07-29-2013, 04:29 PM
VIP Member


The owner of the team is weighing out doing US Touring car but we have a hard time scheduling these races mainly due to we do our regular work first before we go out racing.
07-29-2013, 04:35 PM
VIP Member
here are some vids (been posted before in other threads but I'll leave them here)
25 hours of thunder hill
Air jacks
first time driving it, running a datalog with EcuTek
doing dyno simulations giving it various louds and testing the system